Company Profile
Safecare Biotech(Hangzhou)Co.,Ltd. is a premier and professional manufacturer and exporter of rapid diagnostic test kit with 165 workers, 8000 ㎡ non-dust workshop, a professional R&D team who has 15years experience in rapid test field, advanced automate machines and professional R&D team ensure the high quality, speedy delivery and large production capacity. SAFECARE earned the reputation as a premium brand known for exceptional quality, consistency and innovation.

Our product ranges drug of abuse and alcohol test in urine and saliva, Food Safety test, Women Health test, Infectious Diseases test, Cardiac Markers test and Tumor Markers test with CE & ISO approved. Our drugs tests are even US FDA 510K and CLIA Waived approved which can ensure you high and stable quality.
Documents
COVID-19 Antigen Rapid Test (Saliva)
【INTENDED USE】
The COVID-19 Antigen Rapid Test Kit (Saliva) is a lateral flow immunoassay intended for qualitative detection of nucleocapsid protein antigen in oropharyngeal saliva specimens from individuals suspected of COVID-19 by their healthcare provider within the first seven days of symptom onset.
It is an immunochromatographic membrane assay that uses highly sensitive antibodies to detect SARS-CoV-2 nucleocapsid protein from oropharyngeal saliva specimens.
SARS-CoV-2 specific antibodies are immobilized onto the test region of the membrane and combined with other reagents/pads to construct a test strip.
The COVID-19 Antigen Rapid Test Kit (Saliva) is intended for use by medical professionals or trained operators who are proficient in performing rapid lateral flow tests.
【TEST KIT COMPOSITION】
| | |
| --- | --- |
| Individually packed test devices | Each device contains a strip with colored conjugates and reactive reagents pre-spreaded at the corresponding regions |
| Extraction tube | For specimens preparation |
| Extraction buffer | For specimens extraction |
| Workstation | For placing extraction tube |
| Nasal Swab | For specimens collection |
| Package insert | For operation instruction |
[Specimen Preparation]
1. Spit the saliva through the funnel to the 300ul mark on the collection tube
2. Squeeze all the disposable diluent into the lysis tube
3. Close the lid and shake well to mix
4. Add 3 drops of sample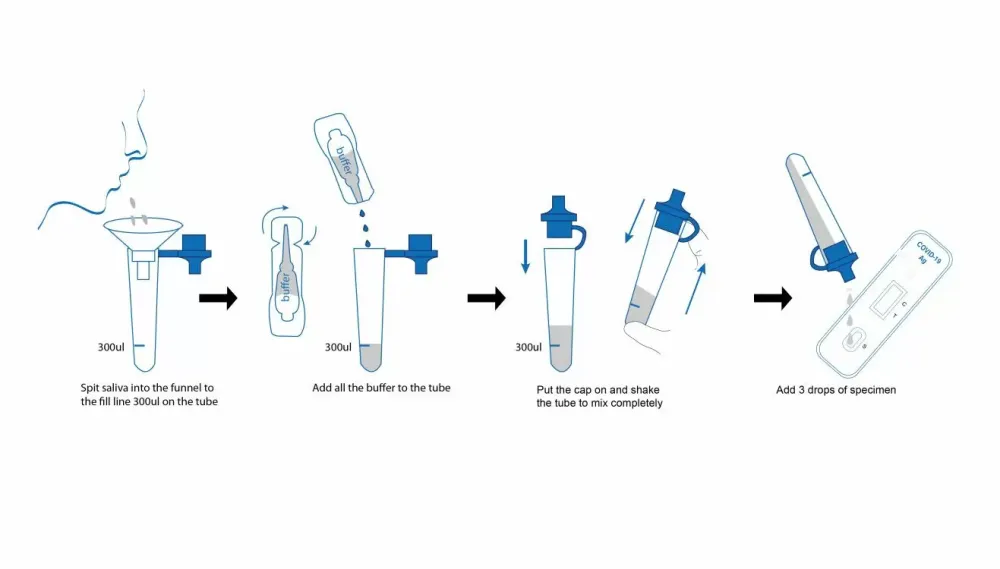 【INTERPRETATION OF THE TEST RESULTS】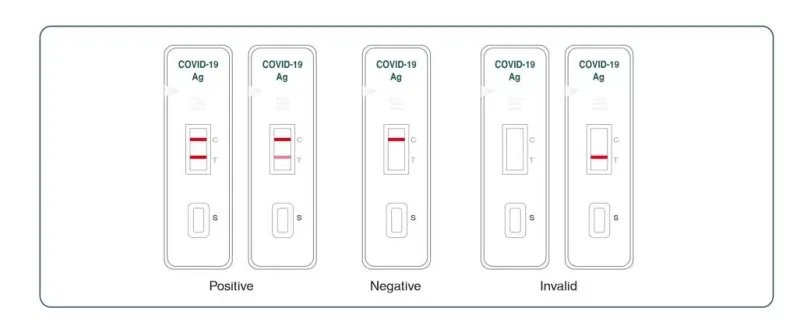 【Remarks】
1. Inadequate specimen collection or improper specimen handling may yield a false result.
2. Posterior oropharyngeal saliva : Perform hand hygiene with soap and water/alcohol-based hand rub.Put the funnel on the tube. Make a "Kruuua" noise from the throat to clear the saliva from deep throat, then spit saliva into the funnel to the fill line 300ul on the tube. Avoid any saliva contamination of the outer surface of the funnel.
3. Optimal timing of specimen collection:After getting up and before brushing teeth,eating or drinking.
4. The test should be performed immediately after the sample is collected.Do not leave the sample at room temperature for more than 2 hours.Specimens may be stored at -20℃ for up to 1 month prior to test.
5. If Specimens are to be transported, they should be packed in compliance with local regulations covering the transportation of etiological agents.
6. If samples are stored at -20℃ they must be returned to room temperature,thawed completely and fully mixed prior to testing. The samples can be frozen and thawed once and repeated freezing and thawing should be avoided.
【ORDER INFORMATION】